40 mistakes you don't realize you're making around your home
Don't worry, your (affordable, quick) solutions are here.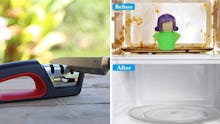 We may receive a portion of sales if you purchase a product through a link in this article.
There are always fresh and new ways we can improve our living environment. For example, failing to protect your expensive furniture from pets or not having an orderly system to sort laundry are just a few oversights that make your home feel unkempt.
What you might not know is that these common mistakes can all easily be fixed by incorporating minor household hacks and investing in gadgets to sustain your home (like this amazing scratch guard that will deter your cat from scratching the couch!)
Ahead, check out 40 simple solutions to the most common mistakes you may not even realize you've been making around the home. You'll thank us later.