25 mistakes you're making in your backyard
We only recommend products we love and that we think you will, too. We may receive a portion of sales from products purchased from this article, which was written by our Commerce team.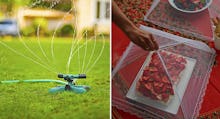 Look, we're all making a few mistakes in our backyards. It can be easy to neglect your outdoor space between seasons or when you're busy spending your time redoing the interior of your home. But, I promise all of our lawns, gardens, or tiny square patios could be better. It's all about fixing these 25 mistakes you're making in your backyard.
This list isn't just about a fly and mosquito plan to keep your outdoor space pet-free — though that is important. For fly management, I found a bug zapper in tennis-racket form that's definitely better than relying on a hanging sticky trap. This list also has things that help with the pesky problem of deer and rabbits eating all of your plants. You don't have to use something harsh to save those flowers that took forever to plant — instead, this list has a gentle deer and rabbit repellent spray that's plant- and animal-safe.
Of course, it's also easy to make a mistake with a key backyard feature: the grill. First, we should all grab the tear-proof grill cover to keep it protected in all weather situations. There's even a durable outdoor box for those of us who leave our grilling tools scattered around the patio.
I promise, we've all spent enough time decorating and fixing mistakes on the inside of our homes. It's about time that we all scroll through these landscaping, decorating, grilling, and bug-free backyard solutions.