Athletes Alex Morgan & Michael Phelps swear by this mattress — & it's available at a rare discount right now
It was designed with sleep doctors and neurologists.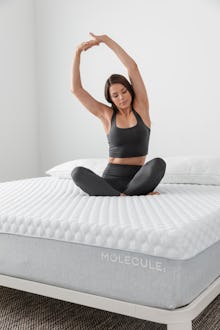 Molecule
We may receive a portion of sales if you purchase a product through a link in this article.
Quality sleep is essential to functioning at your best — and if anyone knows about that first-hand, it's professional athletes. So when people like Michael Phelps (American swimmer and the most decorated Olympian of all time) and Alex Morgan (American professional soccer player and World Cup champion) have both been pretty vocal about using and loving the same mattress, people tend to listen. And when you consider that Molecule worked with sleep doctors and neurologists on a design that actually improves restorative sleep, you might be curious about it, too.
Through Memorial Day, the brand is offering up to 35% off with code MEMORIAL2023. (The 100-night trial period for mattresses — plus free shipping and returns — make trying it out for yourself very low-risk.)
Molecule sells a few different iterations of mattresses to suit varying budgets and types of sleepers, but every design is focused on cooling, supportive materials to optimize slow-wave sleep, the most restorative stage.
There are also science-backed sheets, mattress toppers, pillows, and other accessories to up your sleep game by maximizing airflow and keeping the body cool enough to get deep sleep. Scroll on to browse a few of the options:
1. A set of cooling sheets
2. The most affordable Molecule mattress
3. A comforter designed to keep you cool & dry
4. This antimicrobial, supportive mattress topper
5. The hybrid coil & foam mattress