I Swear By Menstrual Cups — Here's Why This Disc-Shaped Cup Is A Game-Changer
You can even wear it during sex or swimming.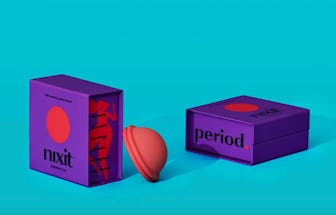 We may receive a portion of sales if you purchase a product through a link in this article.
The first time I tried a menstrual cup, I knew I'd never go back. That said, it took me a pretty long time to find a reusable menstrual cup that was the right fit and size, and the Nixit menstrual cup aims to make that sometimes overwhelming fitting process as easy as possible.
FAST FACTS:
A disc-shaped menstrual cup that's designed to fit basically anyone
Made of soft, flexible, medical-grade silicone
Stays in place without suction
12 hours of protection
Can be reused for up to five years
Can be worn during sex or swimming
What is the Nixit menstrual cup?
Like most menstrual cups, the Nixit menstrual cup catches period blood with its bowl-shaped design (rather than absorbing it like a tampon or pad), so you can wear it for up to 12 hours with a much lower chance of leaks or toxic shock syndrome.
It's made from 100% BPA-free, medical-grade silicone which can be cleaned and reused for up to five years. As a result, there's a whole lot less waste than with single-use period products — which is great for the environment but will also save you a lot of money down the line.
What makes a disc-style cup different?
The first time I used a menstrual cup, it was a single-use disposable one. (I wanted to try the concept out before I committed.) I loved it, but when I went shopping for a reusable one, I found that all of the silicone options at the store were bell-shaped. Even today, the Nixit menstrual cup is one of the few disc-shaped reusable cups on the market (and you may see it referred to as a "menstrual disc" due to its shape).
Why is the shape important? A bell-shaped menstrual cup uses suction to stay in place. As a result, you need to find the right size for your vaginal canal — and according to OB-GYNs, it can take some trial and error before you get it right.
However, a disc-shaped menstrual cup like Nixit sits above the vaginal canal and below the cervix, holding itself in place naturally. Consequently, one size fits almost anyone who menstrates. Plus, you can even have mess-free sex or go swimming while it's inserted, and it can still hold up to four tampons worth of blood (70 milliliters).
Who can use Nixit
Nixit is designed to fit as many people as possible, including teenagers and those with a low cervix. If your doctor says it's okay, you can also use a disc-shaped menstrual cup alongside an IUD. (I do without any issues whatsoever.) If, for whatever reason, the cup isn't working for you, the brand encourages you to get in touch at hello@letsnixit.com.
Who it's not for
You may feel hesitant to try a menstrual cup if you're squeamish; after all, it does require you to get close and personal with your period. (Yes, it may get on your hands.) A tip for the faint of heart: The brand recommends emptying your cup in the shower at first.
What do reviewers have to say?
So far, the Nixit menstrual cup has earned an overall 4.5-star rating after more than 6,000 reviewers have weighed in. "After having tried all the products, even other discs, this one is the best," one wrote — but it's not just menstrual cup veterans who love it; beginners do too. One rave: "This was my first time trying a menstrual cup and I'm a convert! It's really life-changing, I even forget I'm on a period! I got used to it quickly and have no discomfort."
Finally, those who had trouble finding a comfortable, leak-free fit with other brands say that Nixit is the one: "The Nixit is by far the most comfortable and reliable I've tried so far. I've used the Diva Cup and the Intimina Lily, but both felt awkward and had a bit of a learning curve for placement. The Nixit was easy to fit from first use."