Of Amazon's most popular home fitness products, these 37 are worth the hype
Clever ways to make your at-home workout routine better than ever.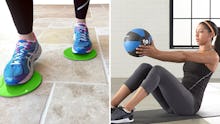 We may receive a portion of sales if you purchase a product through a link in this article.
If you're like me, you find it much easier to squeeze in a home workout rather than making time to go to the gym. Fortunately, there are plenty of popular home fitness products on Amazon that cover all the bases for a great at-home workout. And yes, these products are worth the buzz they've generated — just take a peek at some of the rave reviews from other Amazon shoppers.
Whether you're looking to take your cardio routine to the next level or find new ways to build muscle strength, this list is filled with affordable items to get you excited about your next workout.