Only rich people's homes used to have these amazing things, but they're now cheap on Amazon
Prices have dropped on dozens of surprising items that will make your home more luxe.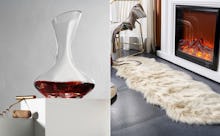 We may receive a portion of sales if you purchase a product through a link in this article.
While the cost of living has risen, upgrading your home has never been as affordable — or as easy. Things that used to only be found in rich people's homes have become way more affordable: Tech gadgets certainly are, but so are lots of stylish and helpful items you wouldn't expect. All of the items on this list look luxe but cost less than $50, so you can improve your home's curb appeal, make your living room and bedroom cozier, cultivate a customized chef's kitchen, and create a spa-like atmosphere in the bathroom. Even better, everything is handily available on Amazon and comes straight to your door. Scroll on for clever ways to make your home look way more expensive.