People who stage homes for a living swear by these cheap tricks to make any room in your home look good
You don't have to be selling a house to put these design-worthy tips to good use.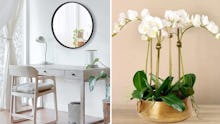 Amazon
We may receive a portion of sales if you purchase a product through a link in this article.
As it turns out, people who stage homes for a living know a thing or two about how to get your space looking its best. According to them, you don't need to spend a small fortune to improve the appearance of your house or apartment — all you need are these expert-recommended design tricks that are easy on the wallet.
For example, by adding texture to your sofa with an airy muslin throw blanket and adding a light-reflecting lamp to a dark corner, you can make your home feel warmer and more inviting. (Easy.) Our trusted industry professionals have plenty more tips for taking your living space to the next level.