Pet owners say you can save a sh*t load of money with any of these genius things
These pet owner-approved products are sure not to disappoint.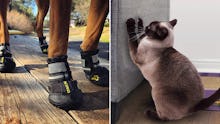 We may receive a portion of sales if you purchase a product through a link in this article.
Caring for your pet is no easy feat. Not only does it take a lot of work and dedicated time, but owning a pet will also have you digging deep into your pockets. Luckily, there are a ton of affordable products on the market that can actually save you money when it comes to your furry companion.
Some of these products will not only save you multiple trips to the vet but will also cut down costs by helping you avoid expensive repairs to household items and furniture. And who better to reveal which items are game-changers than pet owners with everyday experience?
Ahead, discover 30 genius products that will save any pet owner loads of money.