I tried Petlibro's new automatic pet feeder with vacuum-sealed storage — & it's made my life so much easier
Airtight pet food storage and an automatic feeder, together at last.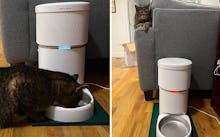 We may receive a portion of sales if you purchase a product through a link in this article.
It's 6:30 a.m. on a Saturday in Brooklyn, and I am awake. No, I'm not going for an early morning jog in Prospect Park or heading off on a fun summertime road trip. Instead, I am filling up the pet food bowl with kibble. You see, moments earlier, my 9-year-old cat Eska had wandered over, convinced that the empty bowl meant he would never eat again, and decided to passive-aggressively meow at me and knock books off my nightstand until I finally got out of bed. Any cat owner knows this song and dance all too well. So, when I got a chance to try Petlibro's new Space Automatic Pet Feeder, I was eager to see if it would make my life any easier and my sleep any more sound.
What is the Petlibro Space feeder?
The basics:
Automatic pet feeder with large-capacity food storage (up to 7 pounds of dry kibble)
Vacuum-sealed storage helps lock in fats, nutrients, and flavor and locks out moisture, bacteria and pests
Companion app lets you create a feeding schedule or dispense food immediately
Portion sizes can be customized based on your pet's needs
Customizable meal calls let you record voice messages for your pet
First impressions
I was already familiar with Petlibro — the brand's Capsule water fountain has made giving my cat water a mess-free experience, and I really like its sleek, minimalist appearance. I had high hopes that this automatic pet feeder would simplify my life in the same way the water fountain did.
The first thing I noticed when unboxing the Space Automatic Pet Feeder was that it was huge — much larger than I was expecting. The size makes sense, though, because the vacuum-sealed food tank can hold up to 7 pounds of dry kibble. And, at over 7 inches in diameter and almost 2 inches deep, its stainless steel bowl is designed to prevent irritating whiskers (or if you have a hungry dog, the bowl is big enough for large portion sizes). That said, the overall size of everything felt a little excessive for a single cat. But, on the flip side, it gives this feeder the flexibility to work for multi-pet households, too.
Setting it up
Setting up the pet feeder was pretty easy. I gave the bowl a quick wash, filled the tank with an entire bag(!) of cat food, slid the bowl into place, and then went to plug the feeder in.
The Space feeder has two potential power sources (a USB power cord or four D batteries as backup in case of a power outage). I found the power cord to be a bit on the short side, and since my pre-war apartment has limited outlets, I had to use an extension cord to plug it in.
The next step was downloading the Petlibro app and connecting the feeder to my home internet and phone's Bluetooth. Connecting the feeder proved to be a quick and easy process. Using the app, I could customize the name of my feeder (which would be useful if I had more than one).
If you can't tell by the photo above, my cat is a needy, hungry boy, so I used the "Feed Now" feature to immediately dispense 3/12 cup of kibble for him. The portion size is customizable, and you can set it to any amount from 1/12 cup to a full cup (you can also opt to dispense food in ounces, grams, or milliliters).
As the feeder got ready to dispense, I could hear the vacuum sealer suck out air, and the food poured into Eska's bowl. I was a little nervous that the sounds of all this would scare off my cat. While he seemed slightly unsure of it at first, he approached the bowl a few seconds later and started chowing down. And we haven't had any problems with noise since his initial hesitation.
As he ate, I set up an automatic feeding schedule on the Petlibro app because I am not looking to wake up to desperate meows and fallen books if I don't have to. I set it up for 8/12 of a cup every morning at 6 a.m. My cat is more of a grazer, so dispensing a lot of food in the morning and leaving it there all day is what works best for him. But you can set up multiple servings of food a day of various sizes, depending on what's right for your cat. You can also alter your feeding schedule at any time or dispense extra food with the press of a button on the app.
The entire process was really easy, and I slept peacefully and uninterrupted for the rest of the weekend.
The main features
One thing that makes the Petlibro Space Automatic Feeder distinctive is the vacuum-sealed food storage, which the brand claims is the first of its kind on the U.S. market. By creating a negative-pressure storage space, the brand claims it can prevent mold, bacteria, and oxidation (oxidation can damage fats and lower the nutritional value of kibble). It aims to lock out moisture and pests and preserve the food's texture and flavor. Ultimately, it should help you reduce food waste and ensure your pet is getting all the protein, vitamins, and fats they need to lead a happy, healthy life.
The vacuum sealing is triggered after every feeding or every three hours, though you can also set it off at any time via the app or by pressing a button on the front of the feeder.
I live on the first floor in an old apartment, so I get ants and other bugs in my home from time to time, and they have occasionally gotten into my cat's food. While raised bowls and a pet food mat have helped, the ants in Brooklyn are ruthless, so the vacuum-sealed storage and the ability of the Petlibro Space to slowly dispense food to keep it pest-free is really appealing to me. (I fully intend on dispensing smaller meals more frequently later in the summer when we tend to get more bugs.)
As I mentioned, the tank can hold up to 7 pounds of dry kibble, which is way more than my standard bag of cat food. When I go away for long weekends — as I am known to do — I always worry about leaving out enough (or too much) food for my cat. The Space takes the worry out of traveling for me, because I know my sweet cat will have food dispensed when he needs it, and I don't have to worry about bugs getting into his dinner, either. The app alerts you when food is dispensed and when vacuum sealing takes place, which brings comfort to anxious pet parents like myself.
And, for pets who get lonely or anxious when you leave, the Petlibro Space allows you to set up to 10 custom voice meal calls, so both my husband and I can tell our cat we love him and that he should eat, even if we're miles away. I like to think that will bring him some comfort next time we leave town or are out all day exploring the city.
Final thoughts
There are a ton of automatic pet feeders on the market, and the Petlibro Space is an admittedly expensive one. So, the main thing to consider before buying it is how important airtight food storage is to you. As someone who has limited storage space in their apartment for bags of pet food and lives in a humid first-floor apartment that has seen more than a few ants and roaches, the vacuum-sealing technology and extra-large food storage tank are really appealing to me.
There are other features I like, too, like the ability to feed my cat without getting out of bed and the voice calls that I hope will bring comfort to my kitty when I'm out of town. Despite the large size, I'm happy to have the Petlibro Space in my space and plan to continue using it for years to come.