Physical therapists say you're hurting your body if you aren't doing any of these simple things
Plus, helpful tools to help you achieve them.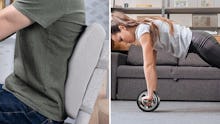 We may receive a portion of sales if you purchase a product through a link in this article.
You only have one body, so it makes sense that treating it well should be a top priority. Unfortunately, though, there are tons of things that can take a toll on well-being. But fear not, because several physical therapists have lent their expertise, with tips that can help keep you in good repair. Whether you're in the market for some high-quality stretching equipment, tools to help you tackle nutrition, or gadgets for better sleep, you'll find physical therapist-approved guidance and recommendations right this way. Your body will thank you.