Professional cleaners say these common annoying problems are actually easy to fix — here's how
Your home will be flawlessly clean with these top tips from the experts.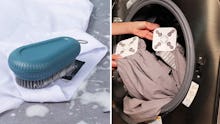 Amazon
We may receive a portion of sales if you purchase a product through a link in this article.
No matter how often you clean your home, you probably run across several annoying problems that seem hard to fix. Whether it's tough grease stains, household odors, or a lack of organization, it's easy to get discouraged.
That's why it's essential to connect with the pros and get their feedback on methods that actually work. Ahead, you'll find 32 solutions to the most common cleaning problems, straight from the experts who tackle them for a living.