Real estate pros say you can dramatically improve your home with any of these easy upgrades under $35
Big improvements with little effort.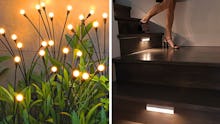 We may receive a portion of sales if you purchase a product through a link in this article.
Upgrades to your home don't have to be hard or even cost a lot of money. In fact, simple design enhancements like under-cabinet lighting or a set of vintage prints can make your space feel instantly refreshed — without breaking the bank. But, if you're not sure where to start the process, have no fear. I've reached out to a few real estate pros to share their best hacks, tricks, and tips that are so easy and clever.
Whether you live in a studio apartment or a bigger home, these items can dramatically improve your living area or outdoor space. Best of all, they cost just $35 or less. So keep scrolling down for some top-notch upgrades that will exceed your expectations, but not your budget.