How do I deal with judgment over my relationship age gap?
What to do when everyone has an opinion on your love life.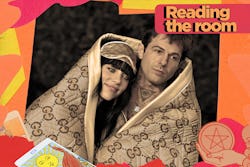 Axelle/Bauer-Griffin/FilmMagic/Getty Images
Welcome to Reading The Room, Mic's tarot advice column. The times we live in can make it tough to feel grounded — and it turns out that's even the case for some of the most famous people in the world. So, we've asked writer and tarot card reader Khalila Douze to help navigate some of life's trickiest existential dilemmas — the ones celebrities deal with in public and many of the rest of us face in private — by interpreting what the cards have in store.
Judging celebrity relationships: An American tale as old as time, especially if there's anything remotely "scandalous" about said pairings — like, say, a significant age gap. Most recently, armchair critics have come for Billie Eilish, 21, and Jesse Rutherford, 31. In the grand scheme of high-profile May-December romances, Eilish and Rutherford's 10-year age gap isn't actually that extreme: Lucy Hale recently commented on her prior relationship with a man (widely assumed to be Skeet Ulrich) nearly 20 years her senior; Sarah Paulson and Holland Taylor have 32 years between them; David Foster and Katharine McPhee are 34 years apart; and Cher and Alexander Edwards are working with a 40-year age gap. Let's not even get into the whole Leonardo DiCaprio of it all.
And yet, Eilish and Rutherford have dealt with plenty of unsolicited feedback on their relationship. Eilish, for her part, made it clear in an interview with Vanity Fair that she's happy and "in control," and that's all that matters. And her brother, Finneas, responded to a TikTok critic by commenting, "I want my sister to be happy and safe and she is a 21 year old adult perfectly entitled to make her own life decisions." Happy for Eilish, but celebrities aren't the only ones who date people outside of so-called socially acceptable age ranges — and not everyone has such supportive loved ones, or global megaphones with which to make their points. What happens then? We asked Douze what the tarot cards have to say.
Dear Room Reader,
I'm somewhat newly in love, but I'm struggling — not because of my partner or our relationship, but because of external factors. My partner is significantly older than I am. I was worried what my family and friends would think, so I initially downplayed our relationship, but now that we're getting serious, I can't (and don't want to) do that. My partner and I are great together: We have shared values and a lot in common, and he's very respectful toward me. But I feel like I'm constantly fielding "concerns" from loved ones who say they "just want me to be careful," and "jokes" about our age difference from people who claim it's all in good fun. Even some of my closest friends still act awkward when we all hang out, as if my partner couldn't possibly fit in and enjoy being with our group. Should I confront them — and if so, how? On top of that, I'm scared to share my relationship even more publicly; typically, I wouldn't be into the "soft launch" relationship trend, but I'm nervous that when I open my relationship up to social media, it will invite even more haters and judgment. What should I do, and how can I keep from letting all of this affect my relationship?
— Drained by Judgment
Dear Drained by Judgment,
You're not in an uncommon predicament, and all of your concerns are valid. Before I get into your cards, I want to acknowledge that you mentioned right from the start that you're newly in love; falling in love can be a complex experience, and having questions and concerns about it is healthy. Your cards, my dear, are coming in hot. Three of the Major Arcana cards came out for you, indicating to me that this relationship is one accompanied by very important life lessons. What you learn through your relationship with this person will stay with you throughout the course of your life. It's giving soulmate energy, to be honest.
Strength, upright
I intended for this card to speak to the nature of your relationship and how you should understand and approach it. With the Strength card, your relationship is likely very passionate and nurturing. The image shows a figure holding a large dog in their arms, petting it to a calm. Your relationship carries these qualities. You know you can lean on your partner for comfort, and you're able to reciprocate that. It's important to continue prioritizing that care. If you can have patience with each other while those around you take time to understand — and ultimately trust — you both, you'll be just fine.
The Magician, reversed
I pulled this one for more intel on the external factors causing some strain — your friends and family and their judgments. The Magician, when upright, typically suggests that you have everything you need to manifest or achieve a certain goal. The Magician has access to each of the four elements, and you can see them in the image: The Figure gracefully holds a cup in one hand and a sword in the other, with a wand on their back as they stand on a pentacle. When it's upright, the Magician conveys the expression, "The world is your oyster." When it's reversed, however, it suggests that you're being held back from power or potential. With The Magician, you are the one who decides. You are in control. So, the fact that you have The Magician here tells me that these external factors threaten your own agency. You know what you're doing and why. You said it yourself: You and your partner are great together. Don't let anyone else's critique of a situation take away from that. Don't let someone else's judgment allow you to get in your own way or sabotage something you feel is a good thing in your life.
Judgment (go figure), upright
I wanted to get a real answer for you with this one. What exactly should you do? I look at these cards often, but this time I most immediately noticed the third eye on the figure in the sky. This third eye is a symbol for you to search within and not without (or, externally) for answers on how to move forward. This relationship challenge has a deeply spiritual lesson attached to it. The irony of being judged by others right now, harmless jokes or not, and receiving this card as guidance is a reminder that you — and only you — are the best judge of this situation. The card is upright, so I know you have what it takes to tap into your intuition and spirit — and for what it's worth, it sounds like you already know what is best for you.
Have more burning life questions? Douze is available for private, virtual tarot readings.