Rust will reportedly finish filming amid Alec Baldwin's criminal charges
Apparently, the show must go on.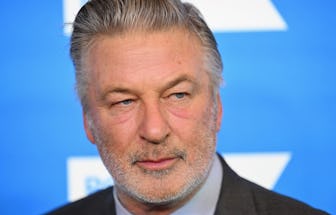 ANGELA WEISS/AFP/Getty Images
Rust isn't done yet. More than one year after the tragic death of cinematographer Halyna Hutchins on the New Mexico film set, Alec Baldwin — who was holding the prop gun that killed Hutchins — faces the possibility of one of the entertainment industry's most notable criminal trials to date. And yet, an anonymous source involved in the movie's production confirmed to The New York Times that Rust will move forward with filming. The show must go on, I guess.
The shooting took place in October 2021, after Baldwin — the star and a producer of Rust — was handed a gun with live ammunition during a dress rehearsal. The gun discharged, killing Hutchins and injuring the film's director, Joel Souza. On Jan. 19, New Mexico prosecutors announced they will charge both Baldwin and the film's armorer, Hannah Gutierrez-Reed, with two counts each of involuntary manslaughter. David Halls, the movie's first assistant director who handed Baldwin the gun, agreed to the charge of "negligent use of a deadly weapon" and took a plea deal.
"After a thorough review of the evidence and the laws of the state of New Mexico, I have determined that there is sufficient evidence to file criminal charges against Alec Baldwin and other members of the 'Rust' film crew," Santa Fe First Judicial District Attorney, Mary Carmack-Altwies, said in a Jan. 19 statement. "On my watch, no one is above the law, and everyone deserves justice."
Baldwin has continued to maintain his innocence, claiming the shooting was an accident, as he didn't know the gun was loaded with live ammunition and didn't pull the trigger. "This decision distorts Halyna Hutchins' tragic death and represents a terrible miscarriage of justice," Luke Nikas, Baldwin's lawyer, said in a statement in response to the charges. "Mr. Baldwin had no reason to believe there was a live bullet in the gun, or anywhere on the movie set. He relied on the professionals with whom he worked, who assured him the gun did not have live rounds. We will fight these charges, and we will win."
In October 2022, an interesting settlement was reached between Hutchins' family and the film's production company — not only did it call for production on the film to resume, but it also stipulated that Hutchins' widower, Matthew Hutchins, will serve as executive producer. Per The Times, filming was scheduled to begin again as soon as January 2023, with Baldwin and Souza reprising their roles as lead actor and director, respectively. According to an anonymous source involved in the film's production, the set — which is likely to be in California, rather than New Mexico — will include on-set safety supervisors, union crew members, and will forbid the presence of any kind of functional weapon or live ammo, including blanks.
While it seems the Rust powers that be are still intent on moving forward despite the incoming criminal charges, it's difficult to imagine how this will actually work. Aside from the fact that Baldwin could be pretty tied up fighting those charges, it also seems like there's still bad blood between Baldwin and Matthew Hutchins, the film's current executive producer. Although, as Deadline reported at the time, Matthew said he wasn't interested in "engaging in recriminations or attribution of blame" when the October 2022 settlement was reached, it seems he is on board with New Mexico prosecutors' plan to charge Baldwin and Guttierez.
"It is a comfort to the family that, in New Mexico, no one is above the law," Panish said in a Jan. 19 statement. "We support the charges, will fully cooperate with this prosecution and fervently hope the justice system works to protect the public and hold accountable those who break the law."