So many cat owners wish they knew about these clever things years ago
Solutions to frustrating cat owner problems.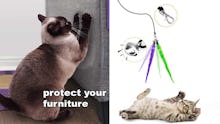 We may receive a portion of sales if you purchase a product through a link in this article.
Owning a cat is fun, but it's also full of a lot of little stressors, making sure your furry friend doesn't destroy your couch and the dreaded task of scooping out the litter box. Luckily, it doesn't have to be that hard thanks to this list of things so many cat owners wish they knew about years ago.
So, what are these popular pet products that help out with frustrating cat owner problems? There are finds like a cat water fountain that looks sleek. There's also a water-free shampoo and, of course, plenty of catnip toys. As for that messy litter box, there's a washable mat that's also super soft for your cat and a litter box scooper that doesn't require you to bend over 100 times.
Being a cat owner obviously isn't annoying, but when you run into a frustrating moment here and there (like torn-up toys), I promise this list will help out.