35 surprising things you don't realize you're doing that are costing you money around the house
These quick fixes can save you a ton of dough in the long run.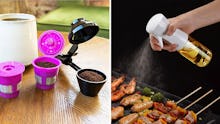 We may receive a portion of sales if you purchase a product through a link in this article.
There are some obvious things that cost you a ton of money around the house (like using way too many paper towels every day), but there are also a bunch of money-wasting things that are so easy to miss. You might not even realize that you're using up a bunch of your budget with everyday tasks and things around your home.
Luckily, I've put together a list of little fixes, so you you won't have to write out a completely new budget or even cut back on buying fun new home decor to save a bit of money.