40 surprising ways you're wasting money every day
Your simple fixes can be found here.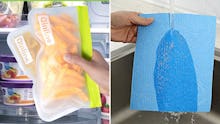 We may receive a portion of sales if you purchase a product through a link in this article.
The devil is in the details, and sometimes that's where some extra cash is lurking, too — right in the little details of your day-to-day life. Take a closer look at some common problems around the house that affect things like your energy bill, or figure out just what you're spending money on at the the grocery store, and you might be shocked at how money is flying right out the door. Luckily, there are so many simple fixes for household challenges that'll help you hold onto your cash.
Once you've hung some thermal-insulating curtains (to cut down on your energy bill) or invested in a meat thermometer (so you don't overcook another pricey steak), you may wonder what on earth took you so long to find these cheap solutions to money-wasting problems. But just blame that on the devil, and dance all the way to the bank.
This article was originally published on