Trouble falling and staying asleep? A doctor weighs in on the best aids for light sleepers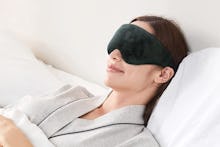 Amazon
Getting to sleep and staying asleep are two entirely different things — but unfortunately, most sleep aids focus primarily on the former. If you often wake up in the middle of the night, the best sleep aids for light sleepers could help with that. To help differentiate the best from the rest, I got in touch with an expert.
"I'm a light sleeper myself and easily awakened," Robert Rountree, M.D., a family medicine doctor and Chief Medical Officer of Thorne, tells Mic. "Having the right tools and a peaceful environment is critical, especially for light sleepers." That said, "it's all relative," according to Dr. Rountree; what works for one person might not work for someone else, so a little introspection will help you make good purchases.
First, you'll want to pinpoint what's inhibiting your sleep: Is it an environmental factor, like noise or light pollution, or is it internal, like stress or an inability to relax? If it's environmental, your best bet is a tool that blocks out disruptions, and if it's internal, there are some great supplements and relaxation aids on the market.
With Dr. Rountree's help, I've narrowed down nine of the best sleep aids for light sleepers no matter what is waking you up. This list includes several supplements, which affect everyone differently and could have unanticipated side effects, so be sure to talk to your doctor before trying them (especially if you're taking prescription medicines or other supplements). Also, keep in mind that the sleep aids below all work best in conjunction with good sleep hygiene.
We only recommend products we love and that we think you will, too. We may receive a portion of sales from products purchased from this article, which was written by our Commerce team.