4 backpacking quilts that offer warmth and versatility in a lightweight package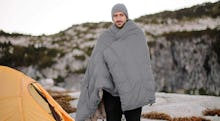 Amazon
Unlike traditional sleeping bags (which are fully enclosed and have hoods), the best backpacking quilts tend to be significantly more lightweight, versatile, and packable. Still, despite their simplicity, there are a few specs to take into account. Namely, you should consider the fill, intended temperature, weight, and size.
For fill, there are two things you'll want to know: What it's made out of, and how much of it there is. Genuine down is a popular choice because it provides excellent insulation while still remaining lightweight. Next, look at fill power, which indicates how many cubic inches of loft there are in an ounce. The higher the number, the more air the down can trap, so the better it is at insulating your body heat. Most best-selling backpacking quilts are made from real down and have a fill power ranging from 600 to 900. However, synthetic down can also offer warmth and comfort — and typically comes with a lower price tag.
That said, fill power isn't the only thing to consider when determining prospective warmth. Brands often test quilts to determine their temperature rating, which give consumers a better idea of the intended climate for their outdoor bedding. And, while all backpacking quilts can be used as a flat, rectangular blanket, some of the top-sellers have clasps and zippers so you can close them up for more warmth, making them like a quilt and sleeping bag hybrid.
Last but not least, since you'll be lugging your quilt around with you, you should know how large and heavy it is before you make a purchase. Check the weight and dimensions to ensure that it'll fit your body and won't overload your backpack.
Read on for four options that are some of the best Amazon has to offer.
We only recommend products we love and that we think you will, too. We may receive a portion of sales from products purchased from this article, which was written by our Commerce team.