Snoring keeping you up at night? These comfortable earplugs will make a big difference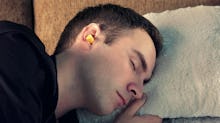 Mic / Amazon
Some people may associate earplugs with concerts and other loud events, but the best earplugs for sleeping with a snorer are comfortable enough to wear in a much more peaceful environment — your bedroom. You just need to find the right pair for the amount of sound you're trying to reduce and the material you feel most comfortable with. Whether the source in question is a partner or a pet, loud snoring can be effectively blocked out.
First, we need to talk about sound volume, which is measured in decibels. Snoring starts at 40 decibels (considered mild) and can go up to more than 60 decibels, which is categorized as severe. The noise reduction rate (or NRR) is how effective a particular tool is at blocking out sounds. The higher the number, the less you'll hear. The highest NRR rating for earplugs is 33, and most of the pairs on my list below come close to that number, but I've also included a 20-to-25-decibel option for those who don't necessarily want to block out all sounds (for example: your alarm clock or a crying baby).
Next, you'll want to consider the material. Silicone is the most popular because it comes in both solid and putty forms and is flexible, comfortable, hygienic, and effective. Foam may not be as versatile or durable, but it's often the most budget-friendly option and can still block out more than 30 decibels, but you'll have to replace them more often.
If you just can't take another terrible night's sleep, these earplugs for noise reduction could change everything ⁠— one pair is even designed to be comfortable and secure for side sleepers.
We only recommend products we love and that we think you will, too. We may receive a portion of sales from products purchased from this article, which was written by our Commerce team.