If you have pets, these are the best air purifiers for fur, dander, & even odors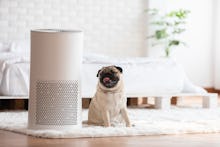 Shutterstock
If you have pets, you've probably figured out that air fresheners just mask odors and vacuuming can only get rid of so much fur and dander. That's why the best air purifiers for pet owners are a worthy investment. The right option for you (and your pets) will be the ideal size for the intended space and have a comprehensive combination of filters.
First, measure the space you'd like your air purifier to cover. Bigger and more expensive units can cover more square footage, but if you're on a budget, it might be a good idea to buy a smaller unit and place it where your pet spends the most time. For reference, small air purifiers typically filter spaces under 500 square feet, while large-room air purifiers are suitable for spaces between 500 and 1,500 square feet.
Next, brush up on your filter types. HEPA (or high efficiency particulate air) filters remove about 99.97% of dust, bacteria, and other particles as small as 0.3 microns from the air, and are considered the gold-standard for air filtration. Activated carbon filters are a popular option for absorbing unwanted odors, while pre-filters capture larger particles (like fur) before they have a chance to clog the main purifier. Some units have one or two of those filters, but the very best air purifiers will have a layer of each.
Now that you have a better idea of what to look for, read on for six great air purifiers that are pet-parent approved.
We only recommend products we love and that we think you will, too. We may receive a portion of sales from products purchased from this article, which was written by our Commerce team.