7 melatonin supplements that can help you get some much-needed sleep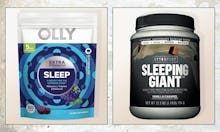 Amazon/Mic
On those nights (or weeks) when insomnia takes hold, a melatonin supplement can help you wind down and get a good night's sleep. Not only do the best melatonin supplements contain an appropriate dose of 1 to 5 milligrams, but they also come in a variety of forms — from capsules to powders and even sprays — so you can find the method that works best for you.
While your brain produces melatonin naturally, it can be helpful to take a supplement on a short-term basis if you're experiencing trouble sleeping or jet lag. If you're wondering how much melatonin to take, experts recommend going for the lowest effective dose, which is 1 to 3 milligrams for most people, but you can increase up to 5 milligrams if a lower dose just doesn't cut it. Beyond that, your choice mainly depends on your intake preference, and this list includes options for melatonin pills, gummies, liquid, powder, and spray. Most methods should be used between 20 minutes and an hour before bedtime, but if you'd rather not plan that far ahead, you can opt for a fast-absorbing oral spray or quick-dissolving tablets.
And a few things to keep in mind: Most supplements aren't regulated by the FDA, but there are third-party testing organizations that offer certifications for safe manufacturing processes and ingredient accuracy. If you want to be fully confident in your purchase, look for products certified by organizations like NSF International or the United States Pharmacopeia. And one more thing: It's always a good idea to go over any supplements with your doctor, and you may want to skip melatonin supplements if you're pregnant, breastfeeding, or have certain autoimmune or seizure disorders. Melatonin is a natural supplement that affects everyone differently and could have side effects for some, including headaches, dizziness, or nausea.
Ready for a good night's sleep? These are the best melatonin supplements that can help you wind down, so you can get some much-needed shuteye.
We only recommend products we love and that we think you will, too. We may receive a portion of sales from products purchased from this article, which was written by our Commerce team.