What to look for in a vitamin D supplement, according to doctors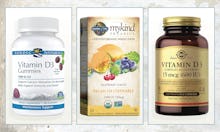 Amazon / Mic
According to Dr. Arielle Levitan, M.D., internist and co-founder of Vous Vitamin, it can be difficult to get all the vitamin D that your body needs. "Most of us do not get enough year round sun exposure to absorb vitamin D," she tells Mic. "There are few sources that provide enough vitamin D for us to get it through diet." Fortunately, the best vitamin D supplements can make it much easier to get this essential nutrient by providing the right dose for your body in a form that you're comfortable taking.
When it comes to dosage, Dr. Paul R. Thomas, RDN, a scientific consultant for the National Institutes of Health (NIH) Office of Dietary Supplements, advises that "the amount of vitamin D you need each day depends on your age." According to NIH recommendations, adults between the ages of 1 and 70 generally need 600 IU a day, and adults over 71 need 800 IU. While this is a good starting point, Dr. Levitan points out that other factors, such as "demographics, race, other health concerns, and symptoms can play into this determination." For example, she notes that "those with darker skin often need higher doses of vitamin D because the melanin in their skin blocks absorption of D from the sun." Also remember that many multivitamins contain vitamin D, so if you're currently taking one, you may already be getting what you need.
Before you make any moves to self-diagnose and dose, know that both experts caution that getting too much vitamin D can be harmful to your health. For most adults ages 19 and up, 4,000 IU per day is the max upper limit of vitamin D that should be received from all sources combined, including food, beverages, and supplements. In order to help find what your specific needs are and decide how much to take, your best bet is to consult with a physician before starting a new supplement.
Once you know how much vitamin D you need, you'll also want to consider the format. While vitamin D comes in two main formats (vitamin D2 and D3), Dr. Thomas recommends opting for vitamin D3. "Both forms raise vitamin D blood levels," he advises. "However, most evidence indicates that vitamin D3 increases blood vitamin D levels to a greater extent and maintains these higher levels longer than vitamin D2." In order to assure "quality and purity" when it comes to your D3 supplement, Dr. Levitan suggests looking for third-party certifications from organizations like the National Science Foundation (NSF) International or United States Pharmacopeia (USP). Products that meet the FDA's Current Good Manufacturing Practices (CGMP) also achieve certain safety and efficacy standards.
These six vitamin D supplements come in a range of forms and dosage amounts, so you'll be able to find the best option based on your unique needs.
We only recommend products we love and that we think you will, too. We may receive a portion of sales from products purchased from this article, which was written by our Commerce team.