7 hand lotions to soothe your over-washed hands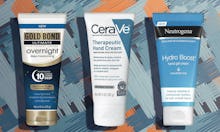 Mic / Amazon
Outdoor sports, harsh weather, indoor heating, and frequent hand washing can all add up to one thing: dry, parched skin. When shopping for the best hand lotion for chapped skin, you'll want to look for a formula that offers immediate relief while also working to strengthen your skin's moisture barrier, so you get long-lasting protection.
The skin's moisture barrier refers to the outermost layer of skin, and it works to retain water and prevent dehydration, flaking, and irritation. A healthy skin barrier will help keep your hands calm and hydrated. To strengthen it, you'll want to look for lotions that moisturize your hands in a variety of ways:
Emollient: An emollient is a lipid that fills in the spaces in skin, so it's smoother and softer. Examples of ingredients that work as emollients include cocoa butter, fatty acids, and natural plant oils, like jojoba and sunflower oil.
Humectant: These have the rather awesome ability to attract and bind water to the skin. Some examples of humectants are hyaluronic acid, aloe, and glycerin.
Occlusive: An occlusive creates an extra barrier on the surface of the skin to lock in moisture. Some occlusive ingredients are squalene, lanolin, and beeswax.
Keep in mind that certain ingredients work in more than one way like shea butter which is both an occlusive and emollient. Strong occlusives like petroleum jelly can sometimes irritate acne-prone sensitive skin, but are a good idea for the thicker skin found on the hands, so my picks below include all three kinds of ingredients.
And of course — you'll want to keep your specific needs in mind. Skin sensitivity, level of dryness, SPF, and personal preference are all important factors when it comes to looking for the best hand lotion for dry hands.
Mic may receive a portion of sales from products purchased from this article, which was created independently of Mic's editorial and sales departments.