8 tough sandals that are built for hiking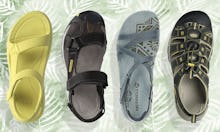 Mic / Amazon
A good pair of hiking boots will take you pretty much anywhere, but the best hiking sandals can be a more comfortable option in warm weather and wet terrain. When you're shopping around, look for sandals with grippy soles to keep you on your feet no matter how slippery things get, and don't skimp on the upper material either. You'll want a pair that's waterproof or, at a minimum, quick-drying.
The most important part of a good hiking sandal will be the sole. Look for a waterproof lug sole, which has deep groove cuts to provide enhanced grip on unstable surfaces. The more it resembles a waffle iron, the better your traction. Most soles are made out of rubber, but budget-friendly sandals may instead feature ethylene vinyl acetate (EVA), a flexible material that's typically more lightweight but less durable than rubber.
As for the upper, you'll want materials that are either waterproof or quick-drying to stave off blisters, and some sandals will even come specially treated to inhibit the growth of bacteria and mildew. Some pricier pairs come with a lining that wicks moisture away, while other options are simply built with synthetics that don't hold onto water.
To keep your feet secure, having multiple points of adjustment — like Velcro straps (also known by the generic name "hook and loop"), bungee laces, or buckles — will help to ensure a comfortable, custom fit that won't chafe after a few miles. And while a toe guard might not be the most attractive feature in a sandal, your feet will appreciate the added protection if you plan to hike over rough terrain.
Below you'll find lightweight sandals you can wear off the trail and heavy-duty pairs for scaling inclines, but all eight pairs of hiking sandals here have been vetted by hundreds (if not thousands) of Amazon reviewers.
We only recommend products we love and that we think you will, too. We may receive a portion of sales from products purchased from this article, which was written by our Commerce team.
This article was originally published on