How to make your home gym feel like the real thing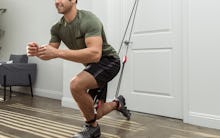 As businesses have begun to cautiously open their doors to consumers, gyms are still in precarious position. COVID-19 is spread through respiratory droplets, and even the fanciest gyms are a fluid-fest of germs. I'm not saying it's a more dangerous place to be than, say, the post office. But I am suggesting that you delay your return to a closed space where several people are grunting, sweating, and wiping their faces in endorphin-fueled glee (god, I miss the gym).
I know you're under-stimulated though — bored of apps and using cast iron pans as makeshift free weights. So here's some awesome, innovative gear you can add to your home gym to make working out at home more fun. Go ahead and get those gainz without stepping into a weight room a minute before it's safe to.