The 50 cheapest things on Amazon that are clever as hell
These products are jaw-droppingly cool.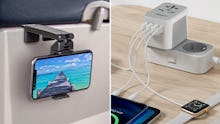 We may receive a portion of sales if you purchase a product through a link in this article.
Sometimes when you shop on Amazon, you end up finding a bunch of items that are just clever as hell. From solving problems that have been pestering you daily, to making your home feel more like the relaxing oasis it deserves to be, there are plenty of cheap yet incredibly helpful products that'll change the entire game.
Here are some of the most innovative home items that will make your life a little easier — and, best of all, they won't make a huge dent in your budget.