The Laundress Has Relaunched Post-Recall — Here's What You Need To Know
The cult-favorite brand has new formulas, packaging, and safety processes.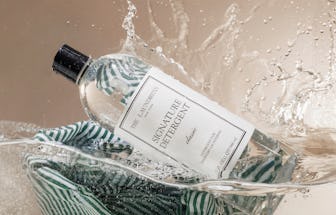 We may receive a portion of sales if you purchase a product through a link in this article.
People say they love a good comeback story, but in actuality, a reputation is a hard thing to rebuild. Most brands ignore the skeletons hiding in their closets. Following a large recall beginning late last year, cult-favorite fabric care brand The Laundress is back with new products, new formulas, new labels, and new safety processes, hoping to win back your hearts and re-earn its spot on your laundry room shelf.
What happened with The Laundress?
Gwen Whiting and Lindsey Boyd founded The Laundress in 2004 when these two fashion executives became frustrated with the market's lack of options when it came to washing their cashmere, wool, designer pieces, and heirloom linens at home. The Laundress' Wool & Cashmere shampoo and Crease Release spray became fan favorites, and in 2019, it was purchased by Unilever (which also owns brands like Dove, Vaseline, and Ben & Jerry's).
However, the brand's success came to a grinding halt when on November 17, 2022, The Laundress posted a safety notice on its Instagram account asking customers to "immediately stop using all The Laundress products in your possession" due to "the potential presence of elevated levels of bacteria." Later on, it was announced that the brand's fabric conditioners might contain the carcinogen ethylene oxide. All of this resulted in two voluntary recalls. Since then, the brand has been working "around the clock" to "address all issues and improve [their] safety standards," according to The Laundress' CEO Clemens Hermann.
What makes The Laundress' new products different?
According to The Laundress, the new products differ from the old ones in the following ways:
New formulas: The newly modified formulations are now made only using plant-based ingredients, and many are designed to be transparent — visually. The ingredients are also
New labels: The Laundress' old formulas are undoubtedly still floating around, so the brand has slightly tweaked the appearance of its new formulas so customers can visibly tell the difference, though they also have a website where they can walk you through figuring out if your existing products are part of the recall.
New partners: Over the past several months, the brand has partnered with experts to improve research and development, supply chain, quality assurance, and manufacturing. The Laundress' new manufacturing partner conducts on-site supervision of products and follows Good Manufacturing Practice (GMP) standards.
New testing: Finally, each batch of The Laundress products is held for extended periods of time for "robust microbiological testing of product batches that exceeds US industry standards," according to the brand.
The Laundress' new products
Since its relaunch, The Laundress has released three categories of products: the Everyday Fabric Care line, the Specialty Fabric Care line (for delicates, cashmere, etc.), and accessories. While the formulas are all new, the brand has revived three best-selling fragrances: Classic, Cedar, and Lady. No word on if Le Labo Santal 33 will return yet, though.
Despite starting over (the brand notes that all on-site reviews are from products shipped after June 2023), some of these products already have dozens of five-star ratings. Here's a look at four of the new best-sellers:
1. A shampoo for delicate wool & cashmere
This updated version of the fan-favorite product is specifically designed to offer a gentle but effective wash for tricky natural fibers. It's enzyme-free and cold-water activated to cleanse wool, cashmere, merino, and mohair clothing without damage.
2. An enzyme-based stain treatment
Suitable for all washable fabrics, this enzyme-based formula is designed to break down stains from grass, makeup, sweat, and more — without soaking or multiple washes. Reviewers write that they "couldn't be happier with the results," which helps explain the average 4.8-star rating so far.
3. A basic detergent for everyday use
Now in a larger 32-ounce bottle, this all-purpose, concentrated detergent can be used on everything from shirts to sheets. Enzymes target stains and grease, while reviewers describe the scent as "fresh but not overwhelming" and say it "actually gets [their] clothes clean."
4. A fabric conditioner that softens & reduces static
Even reviewers who were "skeptical" about this fabric softener "fell in love" with the scent and how soft their clothing felt. Its updated formula aims to make fabrics soft and fluffy while reducing static cling, and customers have used it on everything from their sheets to their sweaters.