Therapists say these cheap, clever fidget toys are life-changing because they can actually help reduce your anxiety
From silent clickers to mentally stimulating games, there's something for every kind of fidgeter.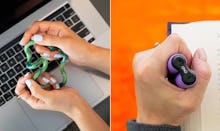 We may receive a portion of sales if you purchase a product through a link in this article.
I never stop moving, especially when I'm in deep thought or working through something difficult. And if I don't have a fidget-worthy item within arm's reach, I'll start shredding napkins, picking at my nails, or peeling the rubber backing off of my mouse pad. Fortunately, the world of fidget toys has seriously evolved past the fidget spinner, and now, they're not just a trendy marketing scheme; according to scientific research on children with ADHD, fidget toys may actually improve focus and minimize disruptions in the classroom.
That said, more scientific evidence is definitely needed — especially when it comes to stressed adults — so for this article, Mic got in touch with a handful of mental health experts. Below, you'll find quotes from psychotherapists, psychologists, and wellness company founders who have seen first-hand how fidget toys can reduce anxiety and keep you calm and focused in stressful situations. A few of them even recommended specific fidget toys first-hand (and for those whose advice was a little more general, we used their insights to find clever options on Amazon).
The best news? These fidget toys are subtle and portable — some of them even come in the form of stylish fidget jewelry or textured sensory stickers — so you can use them just about anywhere and no one has to know.