These cheap things are so useful & clever, I'd buy them even if they cost 5x more
Mega-bargains you'll reach for every day.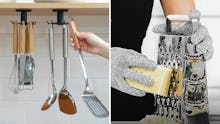 Amazon
We may receive a portion of sales if you purchase a product through a link in this article.
I used to think that if a product came with a low price tag, it couldn't really be worth very much. I was wrong, though; take these super clever and useful items, for example — they'd be bargains even if they cost much more. (But they don't.)
What could be more fun than making a purchase that truly solves a problem, is delightful, or both... and then have it ring up as a bargain at the same time? Seriously, these products make it seem like Christmas every day — see if you don't agree.