These clever, cheap things cut so many of your annoying everyday problems in half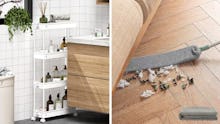 Amazon
We may receive a portion of sales if you purchase a product through a link in this article.
You may be facing big issues in your life — paying the bills, managing your time — and on and on. Unfortunately, I can't tell you how to meet those challenges, but I can tell you how to fix smaller everyday annoyances with the help of a few clever things on Amazon.
From preventing wadded-up bedsheets to dealing with cooking utensils that take up too much space, your solutions can be found here. Maybe by the time you work through the aggravations addressed in this list, you'll feel so accomplished that some of the other stuff will be in the rearview mirror.