These clever, cheap things cut so many of your annoying everyday problems in half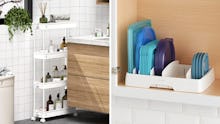 We may receive a portion of sales if you purchase a product through a link in this article.
You may be facing big issues in your life — stuff like paying the bills, managing your time, keeping up relationships — and on and on. Unfortunately, I can't tell you how to meet those challenges, but I can tell you how to fix smaller everyday annoyances with the help of a few clever things on Amazon.
Have you ever woken up in the middle of the night with your bottom sheet wadded up around you? Prevent that from ever happening again with these sheet suspenders that keep everything in place. Then there's the issue of the giant colander that takes up all the room in your kitchen cabinet. Enter this silicone strainer that takes up a fraction of the space in your cupboard, leaving you with significantly more kitchen storage space.
Maybe by the time you work through the aggravations addressed in this list, you'll feel so accomplished that all that other stuff will be in the rearview mirror. It's time for a new strategy: Do sweat the small stuff.