These sex toys are the gifts that keep on giving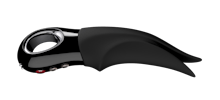 Everyone wants to give the people they care about holiday gifts they'll love. Let me help you out: No one loves monogrammed keychains. No one. You know what everyone loves? Orgasms. They're so good they don't even need a social media campaign. And sure, you can get orgasms for free, but sex toys are great for folx who have trouble getting there.
In fact, sex toys are also great for people who are experimenting with new kinds of sex or exploring new gender or non-gendered roles in the bedroom. They're gold for people who want to have better orgasms, and for the hard-working humans out there whose hands just get tired sometimes.
Sex toys are also more popular and socially acceptable than ever, and they're finally getting more interesting, genital-inclusive, and intuitive. But you can't buy just any sex toy for any person. Here's a guide to help you figure out what kind of vibe, plug, or strap to buy for each lucky person on your list.