These are some of the most popular products on Amazon because they make life so much easier
From garlic-peeling gadgets to mini clothing steamers, these things are major time savers.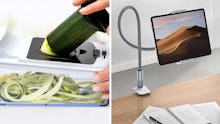 We may receive a portion of sales if you purchase a product through a link in this article.
Look — if I'm grabbing a product from Amazon, I want it to make my life easier (or at least my cleaning days a bit quicker). Life is hard enough as it is, so if there's something out there that can save me time, headaches, or stress, I'm all-in. That's why I made this list with some of the most popular products on Amazon that make life so much easier — and better.
Obviously, you'll find plenty of time-saving items for everyday life like an automatic can opener, a miniature clothing steamer, garlic peeling gadgets, and more. There are also simple products like a cup holder expander, so you can easily take your favorite oversized water bottle with you everywhere — no more worrying about it rolling around the seat next to you.
Basically — this list makes your search for products easier, and all of them will make your life easier. It doesn't get any easier than that.