These 40 awesome products under $30 work just as well as expensive versions
Popular alternatives that'll save you big.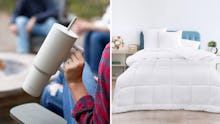 Amazon
We may receive a portion of sales if you purchase a product through a link in this article.
I'll admit, there are a few items that I'll happily splurge on (like my favorite caramel toffee gelato) — but when it comes to everyday items, there are plenty of ways to save money on less expensive versions that work just as well. Even notoriously expensive things like skin care and electronics have impressive alternatives, and the picks below have all earned stellar reviews on Amazon.
To give your bank account a rest, scroll on for these awesome products under $30 that are on par with much pricier versions.