These cheap, clever things help make your dog behave 10x better than it usually does
These items can turn your good boy into a great boy.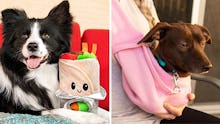 We may receive a portion of sales if you purchase a product through a link in this article.
It's hard enough to get your dog to sit and stay, but what about walking them on a busy street or trying to keep them calm in the car? Even the smartest dogs have canine instincts — and, you can't blame them, as frustrating as it may be.
Luckily, all of these amazing products will make it a million times easier for you and your best friend to communicate and coexist. From better bath times to mess-free meals, you'll ask, "Why didn't I know about this before?"