These clever products are 10x better than what you usually use
Simple swaps, big improvements.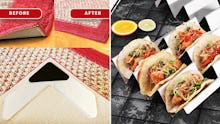 We may receive a portion of sales if you purchase a product through a link in this article.
Creating a home that functions well is simpler than it sounds — not to mention more affordable than you may think. You don't have to do expensive renovations to get what you want. Sometimes the answer lies in simple upgrades to everyday products, which result in big changes to your home's functionality. I promise, it really can be that easy.
Having systems in place that create sensible and easy-to-maintain organization throughout your home will make a bigger impact than you might realize. Giving things assigned places and using practical storage options is just a start, though.
The other side of the coin is maintaining clean space. Most of us lead busy lives, so daily cleaning might not be part of the routine. And that's OK. But having cleaning supplies that do their job and then some definitely makes life easier in the long run. In the end, incorporating a few of the items on this list into your home life will give you a return on your investment — and then some.