These clever things under $30 on Amazon make it so much easier to keep your home nice
Make big home changes on a small budget.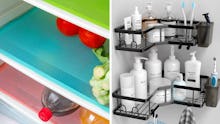 Amazon
We may receive a portion of sales if you purchase a product through a link in this article.
Stepping into your space should feel like a breath of fresh air. That said, clutter or messes can get in the way of a tidy home, and it's tough to keep everything tidy when life gets in the way (aka always).
Luckily, there are plenty of clever products that can help you pick up the slack on a budget. From storage bags and bins to genius kitchen gadgets, your house will quickly become your favorite place with these clever picks that are all under $30.