These genius things make you so much more comfortable, you'll wish you knew about them sooner
From ergonomic pillows to soothing bath products, get ready for 24/7 comfort.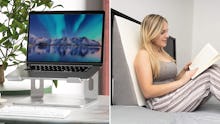 We may receive a portion of sales if you purchase a product through a link in this article.
If I've learned anything from searching for the best Amazon products every day, it's that there are a ton of things that can make your life much more comfortable. It's not just things to add to your snuggly movie nights, either. These genius things will make every single part of your day way comfier.
Sure, you'll wish you knew about these comfy things sooner — but now they're all in one tidy list, so you can scroll through and grab all of the cozy things you've been missing out on.