These weird things have near-perfect Amazon reviews because they're so freaking clever & cheap
They might seem strange, but they're super useful.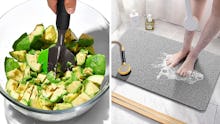 We may receive a portion of sales if you purchase a product through a link in this article.
When it comes to shopping, it's easy to stick to what we know. But sometimes, taking a chance on bizarre Amazon products can really pay off. Just ask the thousands of customers who have left glowing reviews on these unexpected gems (or, you can take my word for it).
From a pair of claw-like kitchen tools that shred cooked meat with ease to an insulated mug that brews your coffee on the go, these odd little curiosities all have one thing in common — they'll actually make your life so much easier.