Think decluttering your home is hard? These clever things will prove you wrong
A tidy space is no trouble at all.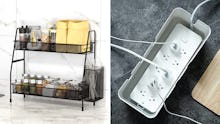 Amazon
We may receive a portion of sales if you purchase a product through a link in this article.
Decluttering is one of those tasks you know you should do but often avoid because it just feels like absolute drudgery. Getting a handle on everything has so many benefits, though, and with a few tricks up your sleeve — and some handy organizational items — you'll find that streamlining your home is easier than you once thought.
If you're anything like me, paperwork is a huge part of the clutter puzzle. These simple magnet clips let you tack important bills to the fridge, so they won't be strewn all over the kitchen counter. For bulkier items like towels and bedding, check out these large-capacity storage bags that make it easy to tidy up the linen closet.
Don't raise the white flag if you've peen putting off an organizational project — now's the time to get started with the help of these genius decluttering products.