Think having a dog is hard? These cheap, clever things make it so much easier
Even playtime will be less of a hassle with these genius pet products.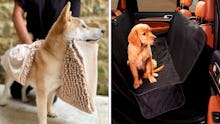 Amazon/Mic
We may receive a portion of sales if you purchase a product through a link in this article.
Some things happen that honestly make having a dog way harder than it should be, like when you come home to your door all scratched up or you spend a bit of every paycheck replacing ripped up toys. When it comes to certain dog-owner tasks (like cleaning up after them, grooming them, or keeping their favorite toys intact), there are some seriously clever things to make having a pet so much easier.
Plus, these super cheap solutions give you more quality time with your pup, and they'll even keep them happier and cozier — a win, win situation.