This popular Japanese snack subscription just dropped its September box — and it includes so many hard-to-find treats
Mint chocolate moon pebbles and chestnut KitKats? Yes, please.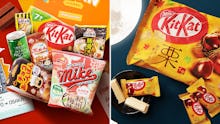 We may receive a portion of sales if you purchase a product through a link in this article.
Fall is fast approaching, and whether it's your favorite season or you're mourning the end of summer, it's a good excuse for a little treat (or multiple, for that matter). If you're looking for things that are not strictly pumpkin spice flavored, Japanese snack subscription service TokyoTreat just launched its limited-edition September box — the Moon Festival Snackin' collection — and it doesn't disappoint.
The brand's curated snack boxes keep going viral on TikTok, with many users posting videos of themselves unboxing and rating each treat in real time. Just like the brand's previous boxes, this newest one is packed with things you won't find in most U.S. grocery stores, all of which are shipped directly to your doorstep.
TokyoTreat curates each of its monthly boxes with 15 to 20 full-size snacks, and you'll find everything from salty chips and sweets to instant noodles and even fizzy drinks — essentially the kinds of things you want to reach for when you're feeling peckish and need a little pick-me-up. The boxes also includes a booklet with details about the snacks (including any potential allergens), as well as insight into Japanese culture.
Each month's box is based on a theme, and past themes have included the cherry blossom festival, with bites like cherry mochi and matcha truffles, and an Osaka-inspired box with peach gummies, kobe melon soda, and okonomiyaki senbei (rice crackers flavored like savory pancakes).
So, what's in the Harvest Moon Snackin' Box? Fifteen to 20 picks inspired by Tsukimi, a celebratory Japanese festival to honor the autumn moon and express thanks for a bountiful harvest. Among other tasty treats, the September snack box includes pickled daikon potato chips, chestnut KitKats, onion soup corn puffs, instant noodles, fizzy grape candy, wasabi fish jerky, and mikan orange juice (mikan oranges are more commonly known as satsuma oranges in the U.S.).
TokyoTreat works on a subscription basis, and you can choose plans that range from one month all the way up to 12 months — and the longer the plan, the more savings you'll get. A 12-month plan along with shipping (approximately $12.50 to the U.S. — but subject to change) will break down to around $2.25 to $3 per snack, which is about what you'd pay if you made a run to your local convenience store. Budget wise, it's a great deal. TokyoTreat also offers gift options, which are perfect for the foodies in your life, or anyone who especially loves Japanese snacks.
Just keep in mind the snacks are curated for you each month, so you won't get to pick what comes in the box. This is perfect for someone who likes to keep decision making to a minimum, but less ideal for picky eaters or those with lots of sensitivities or serious allergies.
If you're ready to up your snack game — or just want something to look forward to once a month — a TokyoTreat subscription just might be the flavor infusion you need in your life this fall.