Trainers say you can get your dog to act a hell of a lot better with any of these genius tricks
Tools and tips for better-behaved best friends.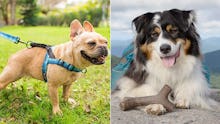 We may receive a portion of sales if you purchase a product through a link in this article.
Seasoned and novice pet owners alike will benefit from the training tools and tips provided on this list by some top professionals in the industry. Contrary to what a lot of people think, whether or not the dog is purebred or a mutt, a puppy, middle-aged, or senior, they are all capable of being properly trained.
The products recommended on this list are tools to help you encourage the best behavior from your fur buddy, and become pack leader. When you take the time to implement correct training techniques with the assistance of varied training tools, you are ultimately setting your dog up for success. And a well-behaved dog makes for a happy owner.