Trainers use these tricks to make dogs behave better & save you money
This expert advice will lead to one happy pup.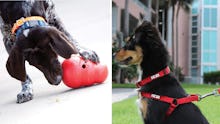 Amazon
We may receive a portion of sales if you purchase a product through a link in this article.
Picture this: You've made an unplanned pit stop at the animal shelter in your town, and you've just met the cutest puppy you've ever seen; you know right away that this is the newest member of your family.
Once you've brought your new four-legged friend back home, the next step is usually to find a training regimen that works well and saves you money — which might be tricky. Luckily, dog trainers know all the best tricks that can help. Here are the best techniques used by dog trainers to help aid behavior training, and the products that have brought them the most success.