There's been a massive increase in young kids accidentally eating weed edibles
Doctors are taking issue not with the legalization of weed, but with the packaging and marketing of it.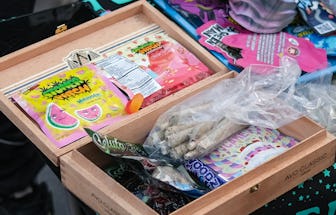 Alexi Rosenfeld/Getty Images News/Getty Images
Weed isn't for kids, obviously — but an alarming number are getting their hands on it, particularly of the edibles variety. According to a recent study published in the journal Pediatrics, the number of children ages 5 and under who accidentally consumed cannabis edibles underwent a significant increase – approximately 1,375% in the span of five years.
The study analyzed data from America's Poison Center's National Poison Data System (NPDS), which documented 7,043 exposures to edible cannabis in kids under 6 between 2017 and 2021. As noted in the study, researchers specifically focused on kids 5 and under because of the particularly high risk: In 2020, accidental cannabis consumption by children in that age group accounted for over 40% of all human poison control center calls.
"Honestly, we knew it was increasing," study co-author Dr. Antonia Nemanich, MD, told CNN. As a medical toxicologist at Rush Emergency Medicine in Chicago, she's observed the number of young children coming through the ER for accidental cannabis consumption increase. "I work in the [emergency department] as well as taking calls for the poison center, and so even though I was seeing more cases coming through the ER, when we looked at the data nationwide, we were definitely surprised," she said.
Nemanich attributed this sharp increase to several factors, including the lack of regulations for an increasingly prevalent product. To this point, in 2017, only eight states (plus the District of Columbia) permitted recreational marijuana use, while 30 allowed it for medicinal use, CNN noted. Now, in 2023, 19 states allow recreational use of the substance, while 40 allow its use for medical purposes. And with new dispensaries seemingly popping up every day, weed is becoming increasingly available – even in states where it's not legal.
It also doesn't help that many edible cannabis products come in the form of cookies, cakes, candies, and other goodies – all very appetizing to children. "My stance is that it is not a problem that these products are legalized, but the problem is that they're not packaged the way drugs or medications are packaged. We have a lot of safeguards in place for that," Nemanich said. "They're marketed as if they're just any other tasty treat." While several large food companies have filed lawsuits against the producers of edibles sporting nearly identical packaging to snacks like Gushers, Doritos, Nerds Rope, and more, they're still readily available on the black market.
Because edible cannabis products are intended for adult consumption, they can be incredibly toxic for small children. If a child ingests a cannabis product, they can experience health issues like heart problems, confusion, vomiting, and trouble breathing, resulting in a trip to the emergency room, according to the CDC. The recent Pediatrics study found that 36% of kids who accidentally ingested cannabis were treated in emergency rooms and released, and 23% were admitted to the hospitals. 3% suffered respiratory depression, and less than 1% needed ventilation.
"There used to be an old adage that you can't overdose on marijuana," Kevin Osterhoudt, a toxicologist and the medical director at the Poison Control Center at Children's Hospital of Philadelphia, told The Washington Post. "But what we're seeing, especially with young children, with these huge doses, is occasionally they don't breathe very well. Those are pretty significant events."
Per the study, most kids who accidentally ingested cannabis found it at home. So while it may seem like common sense, it bears repeating: To keep children safe, store your weed — of the edible variety or otherwise — in childproof containers and well out of reach. Additionally, several medical professionals and the CDC urge adults to never use or consume cannabis products around children of any age.
For Nemanich, the study is an important sign that change is needed. "We wanted to catch this population of kids that are getting into this stuff unintentionally," she told CNN. "We know they're not seeking it out as a mind-altering substance. We knew subjectively they were at high risk because we'd see a lot of exposures in the ER, and they're very likely to just put something in their mouth that looks tasty."