40 weird but genius hacks for saving money around your house
Surprisingly clever products that will help you cut down on everyday costs.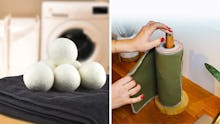 We may receive a portion of sales if you purchase a product through a link in this article.
Saving money around the house is easier than you think. It can be as simple as making coffee at home instead of picking up a drink at the coffee shop, or reducing your energy bill in small ways. On Amazon, you'll find tons of surprisingly genius products that help you cut down on everyday costs.
If not managed properly, your food costs can make a significant dent in your budget. Saving money on dining out by bringing your own lunch with you to work in this insulated lunch bag. And you can store your meal prepping and leftovers in these food storage bowls that come in a pack of 50.
Cut down on energy use while doing your laundry by air-drying your clothes on this drying rack that collapses for easy storage. Wash your clothes in cold water instead of hot by using these detergent pods that are designed to dissolve in cold water.
However you choose to cut down your budget, you'll find tons of genius hacks in this list that'll make the process so much easier.