50 weird things for your body that are so damn clever
Stretch, relax, and work out with the help of these genius products.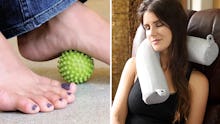 We may receive a portion of sales if you purchase a product through a link in this article.
Whether you spend most of your day sitting in an office chair, are a total gym rat, or exist somewhere in between, you use your body every single day. And that can lead to some uncomfortable knots, dry skin, or just a feeling of exhaustion. If you're looking for some relief, that's where these Amazon finds come into play. Some of them might look a bit weird, but I promise all of these things for your body are so clever.
So, take a quick break from your usual online shopping to grab some of these clever things that will make your life much more comfortable.