What's Actually Happening With the Federal Student Loan Repayment Program?
Biden's plan to forgive up to $20,000 in student loans has been jammed up for months. But there's an end in sight.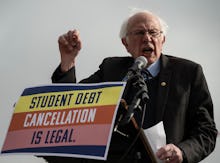 ANDREW CABALLERO-REYNOLDS/AFP/Getty Images
Now that it's tax season, you're probably wondering what's happening with President Biden's plan to forgive up to $20,000 in student loans for eligible federal loan borrowers, putting a substantial dent in the roughly $1.6 trillion dollars collectively owed in the U.S. Immediately after its announcement last August, and before the administration could clear that money off the books, Republican politicians and conservative brought six lawsuits, arguing that it's an example of governmental overreach, enacted without the sign-off of Senate through the use of the HEROES Act, originally signed into law in 2003 (more on that in a moment). Currently, Biden's student loan plan sits in legal purgatory. Or, more technically, it sits with the Supreme Court.
So what's going to happen? Here, at least, is what we know (as of April 2023) — and what we think comes next.
First, a quick recap of the loan forgiveness program
Before we get to the updates, let's get a refresher on the key tenets of Biden's program, at least as it stands today.
You likely remember the basics: the program offers up to $20,000 in student loan forgiveness to eligible borrowers who received a Pell grant (federally awarded, undergrads only, based on financial need) to pay for college. Non-Pell eligible borrowers can receive up to $10,000 in forgiveness. The words "eligible" and "up to," as you might have guessed, are doing some heavy lifting in those statements.
The forgiveness plan considers how much you're making. You may be eligible if your adjusted gross income was under $125,000 in the years 2020 or 2021 if you were single, or under $250,000 if you filed jointly with a spouse, as head of household, or as a qualified widow(er). Eligible loans include the following:
Direct Loans
Federal Family Education Loan Program loans held by the Department of Education or in default at a guaranty agency
Federal Perkins Loan Program loans held by the Department of Education
Defaulted loans
The program requires you to submit an application, but as you'll have noticed if you clicked that link, the application is currently unavailable. Good news for the more than 26 million people who applied before it was blocked by court orders: the federal agency will hold onto your application. For everyone else, consider signing up for the Department of Education's mailing list to get updates about the forgiveness plan and how it might impact you.
Where it sits now: Supremely in limbo
After months of public fighting between forgiveness plan detractors and supporters, two major lawsuits made their way to the Supreme Court. On Feb. 28, the judges heard arguments in two cases brought against the Biden administration: Biden v. Nebraska and U.S. Department of Education v. Brown.
The main legal complaint from the (almost unilaterally Republican and conservative) petitioners in Department of Education v. Brown called into question the administration's authority to unilaterally forgive student loans without congressional action. In other words: they think Biden's using a loophole.
The loan forgiveness plan is built on the powers granted by the Higher Education Relief Opportunities for Students (HEROES) Act of 2003, which was originally enacted to forgive student loans held by those affected by the attacks of 9/11…and was intentionally framed to allow student loan relief to be applied to anyone affected by a national emergency. You probably remember that in March of 2020, then-President Donald Trump declared a state of national emergency as coronavirus slammed into the U.S. That same month, federal loan payments were paused as well. Both of those facts are crucial to the Biden administration's rebuttal.
As of last August, when Biden announced the plan, the national state of emergency remained in place (though Biden has since ended it). As a result, the administration maintained during the Supreme Court hearings that the application of the Higher Education Relief Opportunities for Students (HEROES) Act of 2003 — specifically the key provision of that allows the Department of Education to waive or modify student loan terms if necessary to ensure that borrowers aren't significantly harmed financially — is valid. With federal loan payments paused since March 2020, the administration argues that restarting them could cause harm to a large portion of borrowers. There's been dispute over the semantics of the phrase "waive or modify," and exactly what powers that grants the Department of Education.
The second hearing, Biden v. Nebraska, centers on an argument from the anti-forgiveness contingent that the state of Missouri would be (in legal jargon) screwed if the state-affiliated Higher Education Loan Authority of Missouri (MOHELA) — one of the major federal student loan servicers — loses customers (read: money) and can't pay what it owes to the state's Lewis & Clark Discovery Fund, which supports capital projects at public colleges and universities. To that, the Biden administration pointed out that MOHELA was not involved in its state's lawsuit and that the state of Missouri has, interestingly enough, deferred MOHELA's obligation to contribute to the fund since 2008.
Prepare to wait for a ruling
The Supreme Court spent one day hearing arguments for and against the student loan forgiveness program, but the justices often take months to make decisions. You can circle June in pencil if you'd like: according to CNBC, higher education expert Mark Kantrowitz analyzed the prior Supreme court's term and noticed that half of the decisions came down in that month. Until then, the forgiveness plan — and everyone with outstanding student loans — remain in limbo. It's also worth noting that the Supreme Court's heavy conservative majority isn't in the Biden administration's favor.
For now, the student loan payment moratorium remains firmly in place. Though even that might not last much longer: with the latest extension, federal student loan payments are set to resume 60 days following the Supreme Court's decision or 60 days following June 30, whichever happens first.