Wildly clever things for dogs & cats you'll wish were invented sooner
From self-cleaning pet brushes to a portable paw washer, these products are brilliant.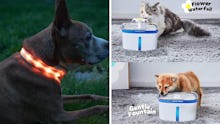 We may receive a portion of sales if you purchase a product through a link in this article.
There are so many things we do for our pets that could be easier, from feeding to grooming to playtime. Fortunately, with a few wildly clever things for dogs and cats, having a pet can be fun again.
What do we need to finally make our pet care routines easier? Let's start with mealtime. For that, there's a bowl and mat set that keeps your floors clean by catching all of the stray water and food. After dinner, be sure to grab the reusable silicone can covers on this list that are easy to pop on half-eaten cans of food.
There's also a stick-on and fleece-padded cat perch that gives your cat the perch they deserve. Plus, this list has interactive toys to switch up playtime, like an oversized dog toy that creates unique sounds when they roll it.
So, whatever part of your pet care routine could be simplified, these wildly clever things will help out.
This article was originally published on