Will Michelin's Green Star finally inject some eco-consciousness into fine dining?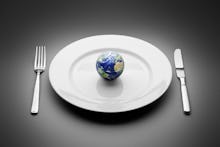 ThomasVogel/E+/Getty Images
Leading purveyor of elegant automobile tires and fine dining discernment, Michelin is once again set to award deserving recipients their coveted star rating, via the Michelin guide. This year, in addition to the accolade given to affordable quality food, the Bib Gourmand, (single star is "high-quality," double star is "excellent cooking," and triple star means "exceptional cuisine,") awards, Michelin has created a new distinction on sustainability, called the Michelin Green Star. The new star signals those establishments with an approach to sustainable gastronomy, or cuisine that takes into account where the ingredients are from and what is done with them on the journey to our forks.
"For many years, we've witnessed the work of chefs and the paths they have taken in striving for ethical practices," Gwendal Poullennec, international director of the Michelin Guides, tells Mic. The company's goal, he adds, is to shine a light on the practices and philosophies that will keep this planet functionally spinning and all of us eating at restaurants. He notes the tragic pandemic-fueled dip in attendance during the past year that only scarred the economy (and our restaurant-loving hearts) but also Michelin's ability to inspect and award stars last year.
"Navigating health protocols, closures, and temporary pivots was especially challenging," says Poullennec. They're now back evaluating restaurants after ending the guide's fall hiatus. "All in all, it proved resilience among the industry and ourselves. Restaurants opened, thrived and were successful."
When it comes to any type of culinary accolades, status and prestige are always at the forefront, but these green stars aren't a gauzy facade of virtue, I'm promised. Food practices are among the biggest concerns when it comes to climate change and the hope is that everyone in the industry starts to take theirs more seriously.
It often all starts with the produce. When you see the phrase "locally sourced produce," it sounds quaint and fresh, but actually means that greenhouse gases are reduced because of how far your food travels to get to you. Farming, production, and transport accounts for 26% of the world's gas emissions, according to Our World In Data.
To identify chefs and establishments who are taking efforts to be more eco-conscious, Michelin's inspectors compare products and ingredients used, as well as the menu, management, their successes in reducing and/or recycling food waste, and perhaps most interestingly, the chef's ability to increase their diners' awareness of green behaviors and practices through what they're serving. "Each restaurant has its own unique way of promoting a sustainable approach to sustainability," Poullennec says.
Michelin's Green Star has debuted in nine American establishments so far, including California restaurant The French Laundry, which just completed renovations on a green update to their building. The fanciest laundromat ever also has three original Michelin stars.
Chez Panisse's Alice Waters, another Green Star-recipient, is the chef credited with creating "California cuisine" (fresh, organically grown, and local ingredients only, apparently) in the late 70s. Waters also founded a nonprofit called The Edible Schoolyard, a noble effort to instill gardening and food values in elementary schools. Along with seven other Green Star-winning eateries, the French Laundry and Chez Panisse prove the environment and luxe food's place in it can coexist. "For us, the Green Star distinction is just as important as the rest of our culinary distinctions," says Poullennec, remarking that Michelin will be devoting a good deal of energy and resources needed to make sustainability the culinary world's norm.
In the past, fancy food was not at all known to go hand-in-hand with sustainability. In fact, wasting food was (and still is, unfortunately) seen as a luxury practice. These days, the conversation about what it means to "eat well" is transforming, and Michelin's Green Star might be a motivating factor for some restaurants to get their minds right.